Hello everyone! We interrupt our regularly scheduled programming to bring you a Very Special Edition of Holonet Dispatch. We love to see the stars of the sequel trilogy in anything and everything, and if you do too, you've come to the right place! Here's a quick rundown of what they have been up to since wrapping up work in a galaxy far, far away.
Daisy Ridley
Everyone's favorite scavenger has been busy since we last saw her on Tatooine. The British actress is set to star in a big film in 2021, Chaos Walking. Based on a popular dystopian YA novel, Daisy plays Viola Eade, a girl whose inability to hear other people's thoughts may hold the key to the secrets of the New World. Co-stars include Tom Holland, Mads Mikkelsen, Cynthia Erivo and David Oyelowo. This movie is expected to premiere January 22, 2021, although every movie on this list (including this one) is subject to change due to COVID-19.
Daisy is also lending her vocal talents to three productions post-Star Wars, two of which have already been released–yay! One is Islanders, an audio-play by Elinor Cook. This Audible original tells the story of a woman who becomes a contestant on a reality TV dating show.
Daisy also narrated a 2020 documentary called Asteroid Hunters. This IMAX film chronicles the true story of the scientists who track extraterrestrial bodies near Earth in an attempt to head off the dangerous ones. (It's like the movie "Armageddon" but REAL.)
Daisy Ridley will also voice Marguerite, sister of Leonardo DaVinci, in the stop-motion animation film The Inventor, written and directed by Jim Capobianco whose story credits include Ratatouille. This film also stars Matt Barry, Marion Cotillard, and Stephen Fry as DaVinci himself. This transatlantic effort of a film is in pre-production and is currently slated for spring 2023.
John Boyega
If you've been missing your favorite stormtrooper turned rebel general, I have good news for you! John Boyega has several projects coming out over the next couple of years–starting November 15 in the UK (BBC) and November 20 in the USA (Amazon Prime). One f them is Small Axe, a series of five films created and directed by Oscar-winner Steve McQueen (12 Years a Slave). The movies are based on McQueen's real-life experiences growing up in London's West Indian community from the 1960s-1980s. The project also stars Letitia Wright (Black Panther).
John will be gracing the silver screen sometime in early 2021 in Naked Singularity. John plays Casi, a public defender whose notion of justice is shaken when he loses his first case. The movie also stars Bill Skarsgard and Olivia Cooke.
John has also signed on for the historical thriller Borderland, written and directed by the Guard brothers and based on the novel The Road to Balcombe Street. This story features an IRA agent who will stop at nothing to avenge his wife's murder by an SAS agent (Boyega). This film also stars fellow Star Wars alum, Felicity Jones, Jodie Turner-Smith and Jack Reynor. It is set to begin filming sometime in early 2021.
According to IMDB, Boyega is also set to star in projects The Test, They Cloned Tyrone, and Rebel Ridge. They are all still in pre-production, but whew! I'm getting tired just looking at this list!
Adam Driver
Ben Solo aka Adam Driver has a full dance card. He just finished filming a movie last week, The Last Duel, written by Matt Damon, Ben Affleck, and Nicole Holofcener and directed by Ridley Scott. In this drama set in medieval France, Driver will portray Jacques LeGris, a role originally intended for Ben Affleck. The film co-stars Matt Damon as rival knight Jean DeCarrouges. Some pictures have already leaked from the set.
Leos Carax's movie-musical Annette wrapped post-prod, but its 2020 premiere at Cannes was canceled due to COVID-19. Fans will have to wait to see Adam Driver and Marion Cotillard as singing lovers until some time in 2021. Here is a video of Adam singing "Being Alive" in Marriage Story, to tide you over for now.
Adam Driver is also attached to three other high-profile projects: 65, a sci-fi thriller directed by Scott Beck and Bryan Woods (A Quiet Place), Yankee Comandante, set during the Cuban Revolution and directed by Jeff Nichols (who previously worked with Driver on Midnight Special), and the untitled Gucci project directed by Ridley Scott and co-starring Lady Gaga.
Oscar Isaac
Oscar Isaac has a lot of really exciting projects coming up, including the hotly-anticipated Dune. This beloved sci-fi saga is likely to be one of the biggest movies of next year. Isaac plays Duke Leto Atreides, the father of the protagonist Paul Atreides, played by Timothee Chalamel. Denis Villeneuve directs the film, which also stars Jason Momoa, Zendaya, Josh Brolin, and Rebecca Ferguson.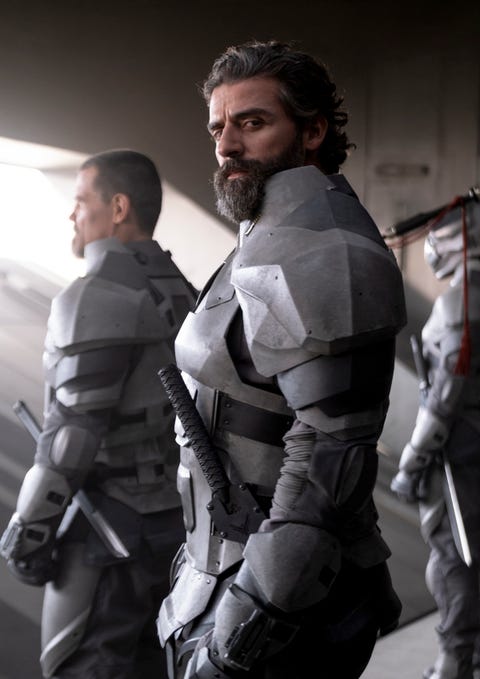 Isaac will also play professional gambler William Tell in The Card Counter, a film written by Paul Schrader (Raging Bull, Taxi Driver). This psychological thriller also stars Willem Dafoe, Tye Sheridan, and Tiffany Haddish. It's in post-production and should premiere in 2021.
Oscar's talents are not limited to on-camera work; he's also producing several projects in the next few years. Isaac is executive-producing and will appear in Big Gold Brick, written and directed by Brian Petsos in his feature-film debut. The film also stars Andy Garcia, Lucy Hale and Megan Fox, and is described as a "darkly comedic, genre-bending film." It's reportedly in post-production and expected to debut on the festival circuit whenever festivals resume.
He is also producing a TV adaptation of Ingmar Bergman's classic Scenes from a Marriage, which he will also star in alongside Jessica Chastain. This project is in pre-production at time of publication.
Kelly Marie Tran
Tran is breathing some new life into Dreamworks "The Croods" franchise in its newest iteration, The Croods: A New Age. The movie centers around the Crood family from the previous film and the Betterman family, new neighbors who might have more in common with the Croods than either family originally thinks. Emma Stone, Nicholas Cage, Cloris Leachman, Ryan Reynolds, and Catherine Keener all reprise their Crood family roles, while Tran, Peter Dinklage, and Leslie Mann portray the newbies, the Bettermans. While most studios are moving release dates back, Dreamworks actually pushed this film up, from December 2020 to November 2020. So, hopefully coming soon to a theater near you?
If you have Hulu, you can check out Kelly in an episode of the series Monsterland. She plays Lauren, a woman hiding from her past which just might (okay definitely will) come back to haunt her. In episode 7, "Iron River, Michigan", Tran plays Lauren both in the present day and ten years ago, a real challenge for an actor. The entire series is available now on Hulu.
In another monster-themed project, Kelly will take on the role of Val Little in Monsters at Work, a Disney Plus series that picks up where the Monsters, Inc. movie left off. Billy Crystal and John Goodman are reprising their roles as Mike and Sully, respectively. The show was originally slated for a 2020 release but has been pushed back (like everything else) to 2021.
And speaking of Disney… we wrap up our "where are they now" with perhaps the biggest and most-anticipated project of them all…RAYA AND THE LAST DRAGON. Set to release in March 2021, Raya is a major Disney female-led movie in the mold of monster hits like Moana and Frozen. Tran stars as Raya, a guardian, and warrior who must find the last dragon to restore peace to her world. There is a major buzz around this movie, and it will no doubt cement Tran's status as an A-list star. Check out the trailer below.
That's all for now–see you next time!